This report covers my Waitematā Local Board activities during February 2015 as Deputy Chair, lead for the Community and Transport portfolios, Chair of the Grants Committee, Deputy Chair of the Central Joint Funding Committee and with positions on the Ponsonby Business Association Board and Ponsonby Community Centre Committee and Board liaison for the Parnell Community Centre.
Highlights
Victory for a liveable city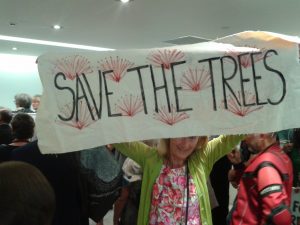 People power and common sense won the day on February 20th when the Auckland Transport Board went against officer advice in deciding not to go ahead with the planned widening of Great North Road that would have required the removal of six heritage Pohutukawa trees. A well organised campaign challenged an Auckland Transport and NZTA culture that was only willing to consider one option for over 3 years.
It was an important win not just for saving 6 trees but for forcing a rethink about the design of all roading projects.  It was also a win for trees in general by raising awareness about the huge range of benefits that a magnificent stand of trees can provide the community and the landscape.
I was proud to be part of the Waitematā Local Board that stood with the community and that has consistently told Auckland Transport the plans needed to be re-considered.
Child friendly Waitematā
The Waitematā Local Board has recently become the first of Auckland's local boards to be nominated and registered as 'child friendly' through the international UNICEF 'Child Friendly Cities' accreditation process.  UNICEF defines a child friendly city as "a local system of good governance committed to fulfilling children's rights.  It is a city where the voices, needs, priorities and rights of children are an integral part of public policies, programmes and decisions. It is, as a result, a city that is fit for all".
Claire Stewart, Community Development Facilitator, organised a workshop in February for participants to find out about the work already being done to make Waitematā child friendly, to share their own work and to support the journey towards Waitematā's child friendly status
Dr. Rodney Tolley, Conference Director of Walk21 and experienced consultant in the field of active, sustainable transport gave a presentation to the workshop.  Rodney has a focus on public space and transport and is passionate about equality of opportunity for children. As he points out children are a great indicator of the liveability of a city. Some of the key points from his presentation about growing a child-friendly city:
Loss of ubiquitous play space – children should be able to play everywhere but there has been a societal change and a change in the function of streets. He quotes from a study that found the failure of an urban environment can be measured by the % of playgrounds.
 

Management of risk – risk of a child being abducted by a strange 1 in x (infinitesimal) if use active travel. If don't use active travel 100% risk that child will have poorer coordination; less likely to be cooperative; have health issues etc

More car travel diminishes physical health. Only 11% of Kiwi kids meet daily activity guidelines – 10% obese.
The presentation considered what's being done, for example:
Safe routes to school "if not safe make it safe"

At heart of initiatives – controlling speeds. Highlighted the benefits to children in overseas cities eg 75% of NYC now 20mph; Paris all streets 30kmph
Conclusion – cultural or physical changes needed? A walking city is a paradise for children. A city where kids invited to sit, play and walk. There are co-benefits in getting it right for kids gets it right for everyone.
The workshop included a discussion on what we are doing for children in different parts of Council and a walk around to explore parts of the city from a child's point of view. The group I walked with along High St and Queen St (including Rodney) found the city centre to be empty of children under 10 and a very unwelcoming place.
 Myers Park Centenary
 The brief to the event team responsible for the Centenary celebrations was to take a community development approach so that it involved local groups for the benefit of city centre residents (the community portfolio was involved in the early discussion on the centenary)
Congratulations to the organising team who did such a great job. The centenary event on 15th Feb was child- focused, organic and non- commercial.  I thought it was a really successful celebration, attracting local residents and all on a tight budget. I would be very supportive of the centenary event being a template for an annual Myers Park kids festival.
Community Development conference
The Unitec hosted conference brought to together practitioners, academics and students to share their knowledge, research and stories about community development. Major themes included placemaking, community economic development, diverse communities and re-claiming democracy. My conference registration of $270 was paid for from the Local Board professional development budget (I cycled to and from the venue).
I enjoyed the conference as a networking opportunity and a chance to hear about the evolution of the practice of Community Development over the last 25 years and to reflect on the role of Local Government.
Key points mentioned by a variety of speakers:
Community Development has to connect most closely with Local Government. LG is the natural unit of CD.
Auckland has suffered from politicians without vision (No social housing; Lack of community centres)
Community Development and Economic development  need to merge– not flip sides
Community development is an indirect art
Most important thing that local government can do: Treat people as citizens and not as customers; Stop doing things to people or for them
Long Term Plan consultation
Consultation on the Auckland Council's 10 year budget (LTP) got under way at the end of January and continues through February until 16 March. The Local Board held 2 community engagement events in February in the City Centre and Parnell (co-hosted with Parnell Community Committee)
As at 1 March Auckland Council had received 6320 written submissions, 427 eligible digital submissions (374 pieces of feedback had been received from the Waitematā Local Board area) and 423 Aucklanders have attended a "Have Your Say "event.
All LTP information and upcoming events are on  Shapeauckland.co.nz
 Richmond Road safety improvements 
After many years fighting for road safety improvements Richmond Rd School can finally enjoy a signalised crossing and traffic calming treatments. The Transport portfolio were responsible for ensuring a feeder lane was incorporated into the design (as a first step towards cycling lanes for the length of Richmond Road)
Westhaven Promenade
The much anticipated and beautifully built Westhaven promenade was officially opened on 16 February.
My partner Paul Shortland (Deputy Chair of Cycle Action Auckland) had the honour of cutting the ribbon on the invitation of Sir Bob and the Mayor.
I have received only positive feedback about the promenade especially from locals using it with children.
Congratulations to the Waterfront Auckland team responsible for the promenade.
Walk About on Ponsonby Road with the Ponsonby Business Association
Following a serious injury suffered by a visitor to Ponsonby Rd, who tripped on the footpath, the Ponsonby Business Association General Manager & Deputy Chair invited representatives from the Board, Auckland Transport and Auckland Council to take part in a walk round. The purpose of the walk was to identify urgent repairs and to discuss options for a full upgrade of the footpath as anticipated in the Ponsonby Plan finalised in 2013.
Workshops and meetings
During February I attended:
 

Meeting with the organisers of Art in the Dark, ATEED reps and events portfolio on 2 February

Ponsonby Community Centre Management Committee meeting on 2 February
Meeting with volunteers from community group Plastic Diet
LTP Consultation briefing on key issues for local board members on 3 February
Local Board Workshop on 3 February
Community portfolio meeting with Youth Advisory Panel representative to handover from Isabella Lenihan-Ikin (before she departed for Otago) to Alex Johnston
Transport Portfolio meeting on 4 February
Central Local Board cluster briefing on draft Corporate Sponsorship Operational Guidelines on 9 February
St Lukes Intersection design/ Pohutukawa Trees discussion with Auckland Transport on 9 February
Ponsonby Business Association Board meeting on 10  February
Waitematā Local Board business meeting on 10 February
Briefing on the New Zealand International Convention Centre on 11 February
Meeting with Matthew Luxton, Envision to discuss social enterprise in Waitemata
Briefing on Trading and Events Bylaw: Communication to businesses
Waitematā Local Board workshop on 12  February
Ponsonby Road Walk About with representatives of Auckland Council, Auckland Transport and the Ponsonby Business Association to discuss the disrepair of the footpaths
Ngāti Whātua Ōrākei Reserves Board meeting and induction – 16 February – The purpose of the hui was to provide an in-depth insight into the history, current projects and aspirations in respect to the Whenua Rangatira and Pourewa Creek Recreation Reserve (photo right of Richelle Kahui- McConnell leading the tour)
St Lukes Intersection design (Pohutukawa tree removal) – follow up meeting with Auckland Transport and NZTA
Community Development Conference (opening Powhiri at Unitec Marae and one day at Unitec, Henderson)
Urban Cycling Investment Panel – meeting 2 in Wellington on 20 February
Local Board Greenways Plans and Walking and Cycling Networks Collaboration Meeting on 23 February
Cycling Action Group and Urban Cycling Investment update presented to the Local Boards Forum on 23 February
Rodney Tolley – Child Friendly Cities workshop at Pioneer Womens Hall
Waitematā Local Board workshop on 24 February
Community Development portfolio monthly catch up on 25 February
Long Term Plan – 10 year budget community engagement events on 25 February (City Centre) and 26 February (co-hosted with the Parnell Community Committee)
Meeting to discuss RLTP feedback on 25 February
Central Boards cluster meeting: BIDs and service delivery and policy review
Attended the Auckland Development Committed extraordinary meeting on 26 February
Monthly Transport portfolio catch up on  26 February
LGNZ Zone One meeting in Auckland on 27 February
Events and functions
During February I attended:
Bike Market at Silo Park on 1 February

Friends of the Festival lunch at Q Theatre on 3 February
Screening with Nga Tāonga – Sound & Vision of two documentaries at Auckland Museum on 5 February to commemorate the 175th anniversary of the signing of te Tiriti o Waitangi. Pita Turei, director of Waka: The Awakening Dream, presented at Q&A session following the screening.
Tour of the Light Show exhibition with Rhana Devenport, Director Auckland Art Gallery (organised for local board members and Councillors) on 5 February
Waitangi Day powhiri at Ngāti Whātua Ōrākei Marae
 Zero Waste Volunteer with Christopher Dempsey at Takaparawhau (Bastion Pt) for the Waitangi Day Festival organised by Ngāti Whātua Ōrākei
Big Gay Out, Coyle Park
Green Desk interview on 10 February (as occasional host of the Green Desk, 95bfm) with Isabella Lenihan-Ikin, Waitemata Youth Advisory Panel representative
Dropped by the NZTA/Auckland Transport Nelson Street cyclelane open day at Tukutai Square on 10 February
Go by bike day pit stop on the Grafton Gully Cycle way on 11 February (free coffee provided by Auckland Transport)
Opening Night Party of Auckland Fringe and X0X Pride at the Box, Aotea Square on 11 February
Cycle Action's Associates breakfast on 12 February
Launch and Blessing of Twist & Thief by Tanja McMillian (Misery)  on K'rd
ICC Cricket World Cup 2015 – Opening of Fanzone at Tukutai Square by the Mayor on 14 February
Valentine's Day bike ride and afternoon tea with Frocks on Bikes
Myers Park Centennial Celebration on 15 February
Blessing and official opening of the Westhaven Promenade on 16 February
With the Deputy Mayor visited the Angel by Kelsey Montague sponsored by the Ponsonby Business Association on the Brown St wall of Ponsonby Central (photo right)
Regional Arts Trust Awards at Q Theatre (congratulations to Shona McCullagh, Hynds Creative Entrepreneur 2015 Award winner)
Auckland Conversations – Shaping Resilient and Collaborative Communities – Milenko Matanovic,  Founder & Executive Director The Pomegranate Centre Washington USA
Save our Harbour rally on Queens Wharf (photo below)
Regional Facilities Auckland – refreshments with the Board and senior management at the Aotea Centre
Finns at the Zoo on 27 February (at the invitation of Auckland Zoo)
Grey Lynn RSC commemorative mural blessing (funding provided by the Local Board)
Art in One Day prize giving (event sponsored with a Community Grant)