UPDATED May 2022 (see below)
At the Waitematā Local Board's December (2014) meeting the Board unanimously passed the following resolution:
b)     That the Waitematā Local Board
i) Supports encouraging and enabling community use of berms as much as practicable
ii) Supports the development of berm-planting guidelines, which would include:
   Benefits of appropriate berm planting
   Safe depths to dig to
   Ideal plants in a number of categories – natives, food, trees
   Maintenance expectations, including in regard to safety eg height
Role of Local Boards in acting as a key conduit for Auckland Transport to have community relationships around berm planting
Working with neighbours
iii) Requests Auckland Transport develop berm planting guidelines in conjunction with Local Boards
iv)  Requests Auckland Transport report on progress to the Board's February meeting
Background
In July 2013 Auckland Transport standardised the urban berm moving service so that generally all owners and occupiers adjacent to road side grass verges (berms) are responsible for maintenance. Auckland Transport has provided various exceptions such as on road corridors through town centres and on steep sections.
Following an increase in residents informally planting on the berms Auckland Transport undertook in February 2014 to draft guidelines. These guidelines have not yet been forthcoming, even in draft form, although the Community Placemaking Champions group of Local Board members (of which I am a member)  was recently briefed that "private" berm guidelines will be released for consultation in 2015.  "Private" applies to people who wish to plant a berm that is adjacent to their existing property, and will not cover community groups or gardening collectives who may wish to plant on berms.
The champions group has recognised that the guidelines provide an opportunity to support the "placemaking" function of berms and to foster the many benefits.   For example – litter reduction, storm water management, streetscape amenity values, community development and the promotion of bio-diversity.  Guidelines can provide a best practice framework for street planting while minimising the impact on the road corridor. For example the City of Sydney Footpath Gardening Policy  allows residents and businesses to put planter boxes on the footpath and/or carry out gardening on footpath verges outside their properties under certain conditions.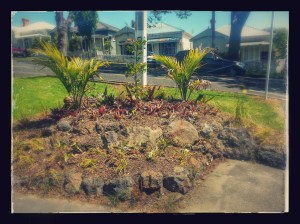 Auckland Transport's approach to the guidelines (including advice currently on AT's website which incorrectly states berm planting is prohibited) suggests that the draft guidelines are not being approached from a placemaking perspective but mainly to identify what is not allowed in the road corridor for safety reasons.
Local Boards are best placed to develop the guidelines with Auckland Transport and to assist with the smooth implementation.  I therefore recommend that the Board confirms support for encouraging and enabling community use of berms as much as practicable and directs Auckland Transport to develop appropriate guidelines in conjunction with Local Boards.
Update May 2022:  Since my efforts to develop berm planting guidelines while on the local board the responsibility for all green spaces including berms has moved over to Auckland Council's Community Facilities.  I've got agreement for the guidelines to be added to the Environment and Climate Change Committee work programme.   So it has been slow going but we are making progress. In the meantime the draft guidelines on AT's website will be followed if there is a complaint about a berm.  This is just something to be aware of when planting berms.