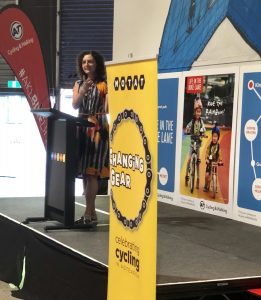 E nga mana, e nga reo, e rau rangatira ma
E te kaumatua David, Tena koe
Ka mihi whānui ki a koutou katoa,
E nga hau e wha
Tēnā koutou, tēnā koutou, tēnā koutou katoa
Greetings to everyone gathered here today
It is a great honor to be opening an exhibition at MOTAT on behalf of Auckland Council. I know the Mayor Phil Goff very much wanted to be here and Councillor Chris Darby, Chair of the Planning Committee.  As you'll discover in the exhibition we can thank the bicycle for the emancipation of women and opening the way for women to vote and enter politics. So I am very happy be representing my political colleagues this evening including Councillor Wayne Walker who just snuck in.
It is wonderful to see a collaboration between MOTAT and Auckland transport to celebrate 200 years of the humble pahikara.   Thank you for everyone who has worked hard to bring this exhibition together.
There are fantastic quotes about the bicycle.  My mum painted on to the front door of our family home the HG Wells quote :  "Every time I see an adult on a bicycle, I no longer despair for the future of the human race."
Iris Murdoch sums it up for me as I rode here this evening "The bicycle is the most civilized conveyance known to man. Other forms of transport grow daily more nightmarish. Only the bicycle remains pure in heart."
There is much to discover in the exhibition that highlights the importance of the bicycle for transport, recreation, health, sport, winning the America's cup – it is inspired to have the cyclors as part of the exhibition – and just lots of fun. Thank you for the sneak peak in advance of the formalities.
Many of my cycling heroes feature in the exhibition including Mr T who is transforming lives in Mangere.  I've long been fans of the Kennett brothers.  How people mocked John Key when he talked of riding from one end of NZ to the other and creating jobs on the way – it is really happening thanks to NZ cycle trails Nga Haerenga and Jonathan Kennett's Tour Aotearoa.  Great to see the Kennett  brothers recognised for their ground breaking work going back to the 80's.
I love the kiwi ingenuity, creativity and innovation on display in the exhibition that seems a perfect fit with mucking around with bikes.   There is the telling of familiar stories  and new cycling stories emerging as young people embrace cycling again. After a very tense time of "bikelash" I  found it really refreshing to view on line the other day the short film Auckland Cycling by Western Springs College students Isaac Keating and Finley Parker-James.  They have informatively uncovered some of the issues that Auckland faces integrating cycling into the city landscape.
This beautiful early summer weather is bringing out people in unprecedented numbers on their bikes.  Kathryn King, AT's walking and cycling manager just told me that the latest stats show a 19% increase on November last year.  MOTAT is perfectly positioned to attract visitors on the NW cycleway – an off road path to the front door perfect for cycling with children.  There is also a poignancy for me in opening this exhibition.   Those who chose to ride are going lightly on the planet, contributing to better health outcomes, less congestion, less pollution but at the same time are incredibly vulnerable on our vehicle prioritised roads.
Just up the road from here a protest about poor design – which we can all agree on – but has turned into an occupation demanding an end the entire cycleway programme!
Now more than ever we need to double down on our efforts  to build a network of safe cycleways.  I want to acknowledge those who are leading the way  – with Transport Minister Phil Twyford and Associate Transport Minister Julie Anne Genter who have made active transport and safety a priority – and those working at the coalface to make Auckland a great cycling city building on the last 200 years of cycling history to shape a low carbon, sustainable city for the future. A city that is built for people to ride bikes is a much safer city for everyone.
OK that is enough of me going off piste with my speech. Ko whea te haere a ko ake nei? (as I read at the entrance of the exhibition full of te reo signage)
Time to change gear to bring it back to what we are here to celebrate what is sure to be a a very popular exhibition this summer.
I would like to declare Changing Gear celebrating cycling Aotearoa  officially open!
Kia ora