This report covers my Waitematā Local Board activities during November 2014 as Deputy Chair, lead for the Community and Transport portfolios, Chair of the Grants Committee, Deputy Chair of the Central Joint Funding Committee and with positions on the Ponsonby Business Association and Ponsonby Community Centre Committee.
I was acting chair for the week of 17th November.
This is my final report for 2014 and also brings to an end the first year of this term of Auckland Council.
Many thanks to all those who have supported the Board's work during 2014. I'd also like to take this opportunity to wish everyone a happy festive season & summer solstice (photo right: Child Fund NZ's brilliant Tree of Bikes at Queens Wharf)
Recommended resolution:
a)     That the report be received.
b)     That the Waitemata Local Board
i) Supports encouraging and enabling community use of berms as much as practicable
ii) Supports the development of berm-planting guidelines, which would include:
   Benefits of appropriate berm planting
   Safe depths to dig to
   Ideal plants in a number of categories – natives, food, trees
   Maintenance expectations, including in regard to safety eg height
Role of Local Boards in acting as a key conduit for Auckland Transport to have community relationships around berm planting
Working with neighbours
iii) Requests Auckland Transport develop berm planting guidelines in conjunction with Local Boards
iv)  Requests Auckland Transport report on progress to the Board's February meeting.
Portfolio reports:  Transport
Parking – Amendment to Road Users Rules to allow residents to park over their own driveways
At the Waitematā Local Board November meeting Trevor Lund, a member of the Freemans Bay Residents Association, presented in public forum seeking a letter of support from the Board requesting NZTA amend clause 6.9 of the Road Users Rule to allow Road Controlling Authorities (in this case Auckland Transport) to exempt residents with a permit, and allow them to park across their own driveways (parallel to the kerb, not over the footpath).
The proposal has the potential to create additional parking spaces in areas where there is high demand for on-road parking. In the response to Mr Lund's presentation the Board passed the following resolution.
9.2 Public Forum – Trevor Lund, Freemans Bay Resident
Resolution number WTM/2014/215MOVED by Chairperson S Chambers, seconded by Deputy Chairperson PJ Coom:

a)      That Trevor Lund be thanked for his attendance and presentation to the Board.
b)      That the proposal be referred to Auckland Transport and the Transport portfolio holders for further consideration and that this be reported back to the Board meeting on 8 December 2014
The proposal was discussed at the transport portfolio monthly catch up on 26 November.  We considered the benefits of the proposal for areas like Freemans Bay where on street parking is at capacity due to all day commuter parking.  We noted a number of points
 Currently where a resident parks across their driveway (parallel to the kerb or facing the driveway as in the photo right but not over the footpath) Auckland Transport will not enforce the rule unless there is a complaint.   The rule gives Auckland Transport the ability to act where there is a dispute over access or safety issues.
 There are benefits to all residents of keeping driveways clear for example driveways provide safer crossing points for pedestrians particularly with pushchairs. A  street with no gaps in the on- street parking could also create hazards for wheelchair users and mobility scooters.
The resident parking zone that Auckland Transport is going to consult on early next year is intended alleviate much of the parking pressure on Freemans Bay.
 Many residents may wish to see occupancy rates reduce on residential streets once the parking zone is installed and not wish to encourage additional parking across driveways.
There are administrative issues for Auckland Transport to consider for example how to identify the legitimate home owner's car and how to enforce complaints. There are also costs associated with a permit scheme (and residents may query why a permit should be necessary for an activity that is currently "permitted").
Overall the transport portfolio concluded that while we wish to support proposals that will address the very serious parking issues currently experienced in Freemans Bay we think there are a number of down-sides to a rule change.  Also in practice it is likely to make very little difference to the parking available because residents already park across their own driveways when necessary.
However we will continue to discuss the options with the Freemans Bay Residents Association and Auckland Transport and support Auckland Transport undertaking a trial of the proposal. We also recommend the Board re-consider providing a letter of support to NZTA once the residents parking zone has been implemented and the impact assessed.
Notice of Requirement hearing – removal of 6 mature pohutukawa trees on Great North Road
I attended the Notice of Requirement hearing on 5 and 6 November in support of the Board's objection to Auckland Transport's proposal to remove 6 mature Pohutukawa trees on Great North Road. The Board's lawyer Nick Whittington did a fantastic job at the hearing arguing that the adverse impact of removing the trees on GNR would be "significant" and "enduring" and outlined why Auckland Transport evidence was  "back-filling, self-serving and cursory".  We have asked AT to consider an alternative option (referred to in the hearing as option 6).
Disappointingly Auckland Transport has stuck to their position that there is no alternative but to remove these notable trees (probably planted on Arbor Day in 1934) for road widening to provide for two lanes turning from Great North Road on to a new St Lukes bridge.   At the hearing AT represented their proposed planting plan to replace the trees. (photo right)
An aspect of the hearing that was particularly preposterous was the 54 submissions out of 64  that all had wrong submission numbers were found to be "invalid" due to clerical error.  One submitter Jolisa Gracewood has written here about the experience of being so terribly let down by the process.
Fortunately she still chose to speak and put forward her very well considered points, as she said "Auckland Transport's plan prioritises car movement at all costs: no creative thought for how to safely move everyone else"
The Commissioners are due to release their decision on 17 December.
Cycling improvements
I was really thrilled to see the greening of new feeder lanes on Great North Road and K'rd at the end of November. As previously reported the issues with the Great North Road intersection were logged with Auckland Transport four years ago (one of the first safety issues I raised with AT after first getting elected). Due to the narrow lanes cyclists were forced to either navigate 3 lanes of traffic or mount the kerb to avoid getting squashed by buses and cars. AT's original response was to say the feeder was not possible without the widening of the road by removing heritage buildings. Fortunately after persistent advocacy from the Board and Cycle Action Auckland someone clever at AT got on to the job earlier this year and came up with a solution not only on the Great North Road side of the intersection but also the K'rd approach (feeder lanes for the Ponsonby Road and Newton Road sections are also about to be installed)
Monthly transport update
A monthly update with Auckland Transport took place on 26 November.  Current issues are reported back monthly by Auckland Transport on our public agenda including the details of the consultation undertaken with the Transport portfolio on behalf of the Board.
Portfolio reports:  Community
Berm planting guidelines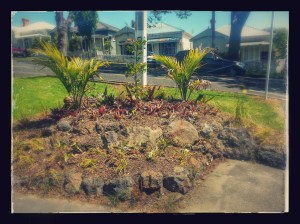 In July 2013 Auckland Transport standardised the urban berm moving service so that generally all owners and occupiers adjacent to road side grass verges (berms) are responsible for maintenance. Auckland Transport has provided various exceptions such as on road corridors through town centres and on steep sections.
Following an increase in residents informally planting on the berms Auckland Transport undertook in February 2014 to draft guidelines. These guidelines have not yet been forthcoming, even in draft form, although the Community Placemaking Champions group of Local Board members (of which I am a member)  was recently briefed that "private" berm guidelines will be released for consultation in 2015.  "Private" applies to people who wish to plant a berm that is adjacent to their existing property, and will not cover community groups or gardening collectives who may wish to plant on berms.
The champions group has recognised that the guidelines provide an opportunity to support the "placemaking" function of berms and to foster the many benefits.   For example – litter reduction, storm water management, streetscape amenity values, community development and the promotion of bio-diversity.  Guidelines can provide a best practice framework for street planting while minimising the impact on the road corridor. For example the City of Sydney Footpath Gardening Policy  allows residents and businesses to put planter boxes on the footpath and/or carry out gardening on footpath verges outside their properties under certain conditions.
Auckland Transport's approach to the guidelines (including advice currently on AT's website which incorrectly states berm planting is prohibited) suggests that the draft guidelines are not being approached from a placemaking perspective but mainly to identify what is not allowed in the road corridor for safety reasons.
Local Boards are best placed to develop the guidelines with Auckland Transport and to assist with the smooth implementation.  I therefore recommend that the Board confirms support for encouraging and enabling community use of berms as much as practicable and directs Auckland Transport to develop appropriate guidelines in conjunction with Local Boards.
Community grants
The Community Grants Committee met in November to consider applications to the second round.  We received applications totalling $$104,731 from the available $$69,153.
The committee's recommendations are on the December agenda. Applications to the third and final community grant round for 14/15 can be made until 6 March 2015 (for a decision in April).
I also attended the Central Joint Funding Committee Meeting on 28 November to consider applications to Round 1 Auckland City Cultural Heritage Fund. We confirmed funding for 5 projects totally $23,322.93 including assistance to St Joseph's Church, Grey Lynn (leadwork maintenance) and St Patricks Cathedral (restoration work) within the Waitematā Local Board area.  $26,677.07 remains for the final round from this fund (which will cease to exist once the new funding policy is implemented for 15/16)
Community Gardens
One of the Board's priorities is to support community gardens so I was particularly pleased to attend the blessing of Te Māra  (the Grey Lynn Community Garden).   Redevelopment of this garden at St Columba Church under the guidance of a new vicar Brent Swann was made possible with a community grant from the Board
Also during November a new initiative has been launched called Kai Auckland   – a movement for all Aucklanders that offers a cohesive and integrated approach to creating connection and nourishment through food. Groups such as community gardens, food coops and farmers markets are encouraged to register on the site.
Kelmarna Community Gardens
Framework Trust confirmed during November that they are no longer in a position to sub-lease Kelmarna Community gardens. This has been a distressing time for the clients and Framework employees who work at the gardens.  Fortunately Kelmarna Community Gardens Trust has confirmed that they would like to continue with the lease (which is about to be renewed) and are keen to explore options with the Board for continuing the management of the gardens. A meeting has been arranged with the Trustees, relevant Community Development officers and the community portfolio members to discuss options going forward.
Workshops and meetings
In the period 1 November – 30 November I attended:
Ponsonby Community Centre management committee meeting on 3 November
Local Board Workshop on 4 November
Attended the Notice of Requirement hearing remove 6 Pohutukawa trees on Great North Road on 5 and 6 November
Meet Ponsonby Business Association GM on 6 November
Communications catch up on  10 November
Engagement adviser catch up on 10 November
Auckland's Resource Recovery Network – Workshop for Local Board Members on 10 November The purpose of this workshop is to update you on the RRN and discuss the opportunities that resource recovery facilities can provide local boards to progress community, economic development and environmental objectives. Presentations from Xtreme Waste Raglan and the new Waiuku Recovery Centre
Ponsonby Business Association Board meeting on 11 November
City Centre activation programme
Te Reo Māori exam on 11 November
Waitematā Local Board business meeting on 11 November
Attended presentation to Ponsonby Business Association members on 254 Ponsonby Road options on 12 November
Meeting  on 13 November with  Auckland Transport regarding the prioritisation of transport projects for the Long Term Plan
Waitematā Local Board workshop on 13 November
LGNZ Zone One meeting in Maungawhai on 14 November
Workshop  on 18 November with governing body members on options for the Aotea Square/Civic Administration Building
Waitematā Local Board workshop on 18 November
Meeting up of community group representatives organised by Auckland Transport to discuss plans for an "open streets" even on Quay St in April 2015
Joint Governing Body and Local Board Chairs meeting on 19 November (A regular meeting offering the opportunity for the two arms of Auckland Council's governance to discuss and debate key issues)
Meeting with local resident regarding resource consent issues
Community Grants briefing on 20 November
Local Board Chairs Greenways Plans and Walking and Cycling Networks Collaboration Meeting on 24 November
Community Grants Committee meeting on 24 November

Shinagawa Peace Delegation to Auckland

Meeting with Shinagawa Peace Delegation hosted by Cr Cathy Casey (This year marks the 30th anniversary of the Nuclear-free Peaceful City Shinagawa Declaration.  As part of the commemorations, a peace delegation from Shinagawa will be visiting Auckland from the 24th to the 26th November.   The purpose of the visit is to exchange information about peace initiatives that are part of the wider 'Cities for Peace' movement, of which Auckland Council became a part in 2011.  The delegation will also meet with the Peace Council and staff members from the Peace Foundation while they are in Auckland.)

Meeting with Sustainable Coastlines to discuss their Waterfront training centre and resource recovery park concept to be built at Wynyard Quarter
Stakeholders consultation meeting on the Newmarket Laneways Plan on 24 November
Ponsonby Community Centre AGM on 24 November
Waitematā Local Board workshop on 25 November
Communications catch up on 25 November
Meeting to discuss LTP 2015 consultation events with the Board's engagement adviser
Civil Defence Community Response Group meeting hosted by Grey Lynn Neighbourhood support
Monthly Transport portfolio catch up on  26 November
Community Development portfolio monthly catch up on 26 November
Central Joint Funding Committee Meeting on 28 November – Round 1 Auckland City Cultural Heritage Fund Applications
Events and functions
In the period 1 November – 30 November 2014 I attended:
Blessing of Te Māra – St Columba Community Gardens – He Timatanga Hou Project on 1 November
Beach Road stage II consultation open day at Britomart Market on 1 November
Reuse to reduce market at Auckland Zoo for conservation week
ATC's Jesus Christ Superstar opening night production at Q Theatre on 1 November at the invitation of ATC
Grey Lynn Farmers Market AGM on 2 November (I was re-elected Chair of the management committee)
Blend with the Bluntletts ride on 2 November organised by Generation Zero, Transportblog, Blend Store and the Frockers at Frocks on Bikes – Auckland (photo right published in the Auckland City Harbour News)
Green Desk interview with blogger and writer Melissa Bruntlett, who lives life on two wheels in Vancouver, about Van Cycle Chic – Observations from an Emerging Bike Culture.
Auckland Conversations on 4 November Vancouver Cycle Chic: Observations from emerging bike culture Chris & Melissa Bruntlett ( report back on their presentation)
Silo Theatre's Blind Date at Basement Theatre at the invitation of Silo Theatre on 5 November
Cycle Action's Associates breakfast on 6 November
Light Show at the Auckland Art Gallery (I couldn't make it to the opening night but enjoyed going with friends)
The Official Launch of Federal Street on 7 November
Franklin Road upgrade Open Day – Community Information Session on 8 November hosted by Auckland Transport
Sustainable Coastlines the Love Project at Silo Six
Armistice Day Commemoration at Auckland Museum
Art in the Dark launch on 12 November and attended Art in the Dark at Western Park on 2 of the 4 nights (one of the four nights was cancelled)
Parnell Festival of Roses opening speech and helped at the Board's stand to consult on the Pt Resolution plan
Launch of the ATEED innovation plan at GRID AKL
Creative Communities Showcase hosted by Auckland Council
World of Wearable Art Exhibition Launch at the Auckland Museum
Opening of the Outside Art Fair hosted by Toi Ora Art Trust on 21 November
Nuffield Street, Newmarket Christmas Festival on 22 November
Glenn Innes to Tamaki Drive cycleway open day hosted by Auckland Transport on 22 November
Picnic with board members Christopher Dempsey and Deborah Yates for the Daldy Street opening Party Saturday 22 November
Auckland Conversation – Affordable Housing Panel Discussion on 24 November
Blessing of Myers Park new playground on 26 November
Spring Fling event in Takapuna hosted by Auckland Transport and Frocks on Bikes on 26 November

Daldy Street Picnic

Consultation and Engagement Awards 2014 at the Town Hall on 28 November  (Since 2011, the Consultation and Engagement Awards have recognised excellence, and encouraged quality and innovation in public participation. The awards are a chance to celebrate and have pride in the high standard of community consultation that happens across Auckland, ensuring sustainable decisions can be made and ultimately creating the world's most liveable city while delivering Aucklanders great value for money. Congratulations to the Local Board Services Team who won the "involve" category and the People's choice award for the 21 Local Board Plan)

Lighting up of the Child Fund NZ Tree of Bikes on Queens Wharf on 28 November
Grey Lynn Park Festival and helped out on the Waitemata Local Board stand consulting on the draft Grey Lynn Park Development Plan on 29 November
Santa Parade on 30 November at the invitation of ATEED
Gifts:

Book gifted by the author: Auckland's Remarkable Urban Forest by Mike D Wilcox